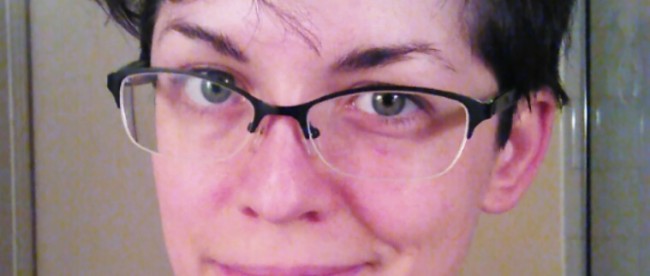 Eagerly I watch as my DS reaches into the wireless ether and assigns me an appropriate-level opponent.  She's from Japan, has a Rayquaza and a general, multi-type team just like me.  It'll be a good battle, probably challenging enough to make it interesting after wiping the floor with the various secret base randos I've been battling all evening.  I will concede that when it comes to Pokémon, I'm a little cocky.  I sank many, many hours into Blue back in 1999 and when I picked up Omega Ruby almost two decades later, I found that my skills had not dulled all that much.  I was going to win this battle, there was no doubt in my mind about it.  Shortly after it began, it was over; my entire team was knocked out while only two of hers had fainted.  I stared at my screen as if it were lying to me.  "Shit" was all I could mutter.
Pokémon has always been a source of pride and slight embarrassment for me.  I was the only girl I knew in my middle school class that played the games and watched the show, nevermind possibly being the only girl that did anything like serious gaming to begin with.  It made me different and (in my head) cool.  When I got older and the games kept coming out, the number of Pokémon climbing with each new generation, I decided that it was time to leave the childhood things behind and focus on more adult interests like anime and playing Dungeons & Dragons every weekend.  At some point in college I had a copy of Diamond which proved to be an endless source of nostalgic fun and unfamiliar frustration.
I didn't know what a poffin was or why I needed to make them.  I was not interested in dressing my Vulpix up for fashion shows. I didn't recognize over half of these Pokémon.  It was like moving away from a close friend and then meeting them years later only to find that they had taken up interpretive bagpipe playing and they were really into it and also they no longer liked Magic the Gathering and who had they become?!
One of the things that I could count on was battling, though, and that was a large part of what motivated me to buy Omega Ruby years after that.  Soon as I powered on the game I knew that collecting was not my goal, though some trainers like that sort of thing.  I want to go back and figure out how to battle thoughtfully, maybe plan my teams and do some EV training.  Oh and I want to make absurd combinations of Pokémon, give them a name that makes me giggle, and then see how many battles I can push them through.
With each team I'll try to explain my logic behind the moves they know and predict how effective I believe they will be in battle.  Ultimately, the goal is to see how many Battle Resort battles I can win with each one and by the end of this series, I will create a team of the best, the crème de la crème, and battle the Elite Four.  I guess what I'm trying to say is: I wanna be the very best, like no one ever was.
I hope you'll come with me on my journey to Pokémaster!
While I ruthlessly trade and battle Pokémon until they have no more PP, Aaron will be lovingly catching them and giving them homes in his Pokémadness articles.